About the 15th Wisconsin Regiment, Company K
The 15th was known as the "Scandinavian Regiment" because its officers and enlisted men were almost all immigrants, predominantly from Norway, but also from Denmark and Sweden. While men from these countries served in many different Civil War units, Federal and Confederate, the 15th was the only 'all Scandinavian' regiment on either side.
Company K called itself the "Clausen's Guards" in honor of the 15th's first Chaplain, Claus L. Clausen. Soldiers in Company K were recruited by Captain Mons Grinager from the Scandinavian communities in Freeborn, Fillmore, and Mower counties in Minnesota, and from Emmett, Mitchell, Winneshiek, and Worth counties in Iowa. There were a few soldiers whose homes were in Wisconsin. The volunteers spent the first few months of their enlistment in training at Camp Randall outside Madison, Wisconsin. In early March, 1862, the 15th left Camp Randall for the war.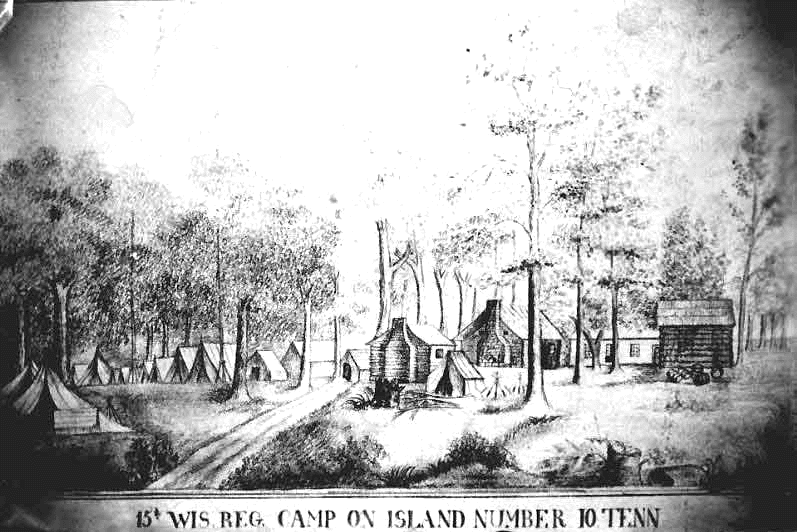 State Historical Society of Wisconsin. Sketch by Ole Dahl of Company "H"
Island Number 10
Island Number Ten has since eroded and been washed away, but during the Civil War it was located at a critical double bend in the Mississippi at the Tennessee-Kentucky-Missouri border. The double bend (an "S" on its side) had New Madrid Missouri at its northwest corner and Island Number 10 at its southeast corner. The Confederates had gun placements on the island and on the east side of the river opposite the island. It was therefore necessary to capture the river bank before attacking the island. The Yankees dug a canal through a swamp to New Madrid. It was deep enough for troop transports to ferry most of the 25,000 Union troops that would occupy the town. The canal was not deep enough for ironclads, and they were needed to protect the troops as they crossed the river to the island.
The Navy began shelling the island March 16, 1862. The ironclads were unable to get past the island during the day because their flanks had no armor to protect them from rebel fire from the island. On April 3, 1862, the USS Carondelet was able to sneak past the island under cover of night, followed by the USS Pittsburgh the following night. Under the protection of the gunboats, Union troops landed on the island.
The 15th Regiment returned to New Madrid while the surrender of about 7,000 Confederate defenders was arranged. The rebels left the island on April 7th and the Scandinavians were sent to occupy the Kentucky shore. There they took possession of enemy camps that were well stocked with food, munitions, and other provisions. As other troops moved on, the Fifteenth was left to guard the Island, and to gather up and protect the munitions and other provisions which had been captured. The situation was found to be quite unhealthy, and the duty of the regiment was very severe and laborious. It seems likely that these arduous conditions cost Torger his life after less than three months of duty 'in the war zone.'