Gulbrand Gulbrandsen Kassenborg was born in Valdres, Norway, on February 10, 1811 to Gulbrand Gulbrandsen Skjærsteineie (born Braka) and Liv Knudsdatter Houg. He was baptized March 17 of that year in Bagn church in Sør Aurdal. The family lived on Kølbu, a subfarm of Skjærstein at the time. The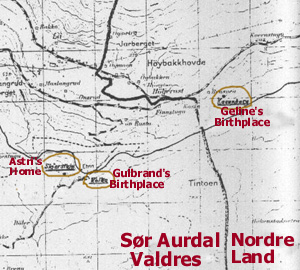 "eie" indicates that his father was a husmann, cotter or renter.
The family moved to Nordre Land parish about 1818, possibly to Kasenborg. Kasenborg was a sub-farm of the large Thomle farm holdings. This may explain why the family is sometimes referred to as Thomleie in Norwegian genealogies. Gulbrand was confirmed on October 30, 1825, in the Haugner (now Nordsinni) church.
Gulbrand returned to Sør Aurdal and Vang church for his marriage on October 19, 1833, to Astri Andersdatter Skjærstein. It appears he married a daughter of the owner of the farm on which he was born. Astri's father was Anders Juleson Solbjør (1780-1848). In 1819 he traded the Solbjør farm for Skjærstein and the family name changed accordingly. Astri's mother's name was Anne Isaaksdatter Sørum (b. 1778).
Gulbrand and Astri lived on Kasenborg after their wedding. Tarje Grover's wife Geline was born in 1834, her brother Andreas in 1836, and Gulbrand in 1842.
Until recently, people lived on the Kasenborg farm in Norway. The following pictures were taken in 2015. The stabbur, barn, and outbuildings date from the early 1800s, so they were there when Gulbrand and his family lived there.
The house on the
Kasenborg farm
The stabbur

The barn




(roof has collapsed and




fallen in front of it)

Buildings behind the house
A little friend left by
the front door