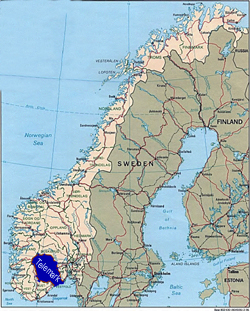 Aslak Tarjeison Skrei was born in 1785 Brunkeberg, Kviteseid parish, Telemark. His father took over the Skrei farm in Weum annex in 1795. It was perhaps the largest and wealthiest farm in the district. Aslak was a member of the bonder class, but he was a restless soul. According to a Norwegian genealogy written by Bendik Veum, he moved from farm to farm in the district. Aslak was always willing to take on a new challenge, and apparently had the skills and intelligence to succeed at whatever he set out to do. According to oral tradition, there were sometimes "bidding wars" for his services. He was referred to as "The Gypsy" by many family members.
Aslak inherited his father Tarje's farm on Skrei upon his death in 1820. It is hard to imagine why he sold such a valuable property to Talleiv Anundson in 1831. When Aase is baptized in 1833, Aslak was listed as the gaardmand on the small, remote Nusvik farm. Records from 1843 show that Aslak and his family were leiglendinger (had a lease) on the Graver farm.
Baptism and Confirmation Records for Aslak's Children
The church record from Fyresdal indicates that Aslak died on February 2, 1846 and was buried there on February 9. It is said that he died as a result of injuries incurred during a stallion fight, a dangerous betting sport that placed stallions in a pen with a mare in heat, sometimes with riders on the stallions. It is not clear if Aslak was a rider, horse owner or an observer. (He was, after all, 60 years old.)

Kristi's brother, Aslach, had already gone to America in 1843. It appears that Aslak made a down payment on an immigrant ship in the fall of 1845, intending to leave the next spring. After her husband's death, for Kristi, now a widow with teen-aged children, joining her brother in Wisconsin may have been the family's best option.
Their traveling companions included Kittel Knudsen Snartland and his family, Herjus Osmundsen Grunnevig and his pregnant wife, Anne Gjermundsdtr. This group signed out of Moland parish together, in entries carrying the date June 29, 1846. (There is an oral tradition that says they actually left Telemark a few days earlier, on Jonsoksdag, 1846.)