Bernhard's Death
The family no doubt breathed a sigh of relief when the Armistice was announced on November 11, 1918. The anticipation of Bernhard's return evaporated when a telegram arrived on the evening of Thursday, November 21. Bernhard would not be coming home.



From "The Centennial History of the 13 Towns" pg 237:
,,,there was cause for great rejoicing: Germany had surrendered! The good news was reported in the headlines of the November 7th, 1918 issue of the Times. There was more good news in November 21st issue: All draft calls were being cancelled; all the soldiers were returning home!
But this gaiety was short-lived and tempered with sadness...for just one week later, the hometown paper regretfully informed the community of the deaths of three more of its native sons, Nels T. Wold, Bernhard Hegland, and Adolph Nelson.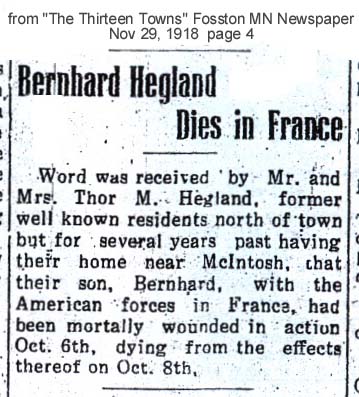 The family learned that Bernhard had been felled by a bullet to the head. It was believed this occurred on October 6th and that he lingered for two days before passing away on October 8th. A review of division and unit records brings that date into question.

On October 6th, Company F was involved in securing the town of Montebrehain. It is reported to have been a quiet day without casualties. On the morning of October 8th, the 118th took the lead in an advance through entrenched enemy positions. During this two hour advance more men of the Company F were wounded or killed than in any other action of the war.

From the Book "Polk County in the World War" published in Ada MN in 1922:
Bernhard Hegland, son of Thor and Lena Hegland of McIntosh was wounded by machine gun fire October 8, 1918. Up until that time he had served in the trenches in the Ypres sector; then when this division went down to operate against the enemy in the St. Quentin sector he took a part in the attack which broke the Hindenburg line at Bella court, France. This was on Sept 29th to Oct 1st 1918.
"Private Hegland was wounded just as we were starting our second big attack north of Montgrehain, which resulted in an advance of over thireen tiles, bgesudes the capture of many prisoners and material," said a letter from Jos. Lawlor, Captain, 118th Infantry.

Bernhard is not listed among the dead or wounded on any of the rolls of the 30th Division. He ended up at a British Casualty Station behind the lines at Tincourt. How or when he arrived there we will probably never know, but his death was recorded by the Brits on October 8th.

It may be that, reflecting the "chaos of war," Bernhard's whereabouts and condition were not known to the Americans until the British provided the information after the war. He was buried in a numbered grave at a local cemetery and reburied at the British cemetery at Tincourt after the war.