Gunil's
Paternal

Ancestors - Immigration

Bjørn was in his early teens when his family left the Enderud under Kopseng farm (#215) in Krødsherad township (kommune) in Buskerud county (fylke) Norway in 1842.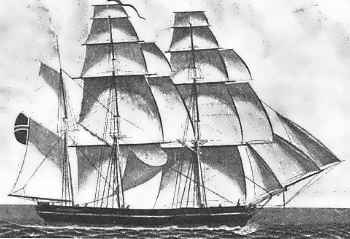 This is a picture of a typical bark, probably like the Emilie that brought Gunil's grandparents and father to America. The ship gets its name from having three masts. The foremast and mainmast are square-rigged and the mizzenmast fore-and-aft rigged. The design of the rigging allowed the ship to sail with fewer crew members than comparable sailing ships.
Thomas Anchersen owned and captained the Emilie. It was originally a cargo ship which was refitted with a between deck for passengers in 1837. In 1842, the Emilie set sail from Drammen on June 21. 116 passengers were aboard, mostly from Numedal.
Emilie

Passenger list 1842
| Captain | Departure | Arrival | Source |
| --- | --- | --- | --- |
| Thomas C. Anchersen | Drammen - Egersund June 21 | New York Aug. 16 | Roll # 50, no. 711 |
| Ref. | Name | Age | Sex | Remarks | Addition |
| --- | --- | --- | --- | --- | --- |
| 34 | Gunder Bjørnsen | 38 | m | man - tiller | given name: Gunder Bjørnsen Kopseng |
| 35 | Kari Ingebrethsdatter | 32 | f | wife | given name: Kari Engebretsdatter Skaalia |
| 36 | Bjørn Gundersen | 12 | m | child | given name: Bjørn Gundersen Kopseng |
| 37 | Ingebreth Gundersen | 10 | m | child | given name: Engebreth Gundersen Kopseng |
| 38 | Sigrid Gundersdatter | 7 | f | child | given name: Sigrid Gundersdatter Kopseng |
An 1839 account of the Emilie's first passage
written by Knud Knudsen:
The ship was taken in tow by a steamer out to Rødtangen. We sailed with fair wind and anchored near the Hotel Klippan in Gothenburg in the evening June 13th. In the following days the ship took on iron for ballast. Due to unfavorable wind the ship could not leave from Gothenburg before June 22nd. We crossed the North Sea as far to the North as possible, hoping to go north of Scotland which is the shortest route. The wind was not favorable and we had to pass through the English channel. On July 16th we lost sight of Ireland and started the Atlantic crossing. The weather was varying but we had no big storms.
It is a must for everyone who is thinking about emigrating to choose a good ship with a good experienced master. If not one will soon find to have lot of concerns for the travel. Our ship was a very good sailor and we passed several other sailing ships going in the same direction as us. Our masters skills were shown at the end of our journey when we arrived right on New York, though the master had never been there before and the winds had been various.
Captain Anchersen helped us to get transportation from New York to Chicago for only 14 Dollars per person. He helped us to enter contracts with the transport company. Anchersen came after us and met us in Albany, and followed us to Schenectady where we said farewell on September 1st.
From Gerhard Naeseth's "Norwegian Immigrants to the United States, a Biographical Directory 1825-1850", vol I 1825-1843, p 152: excerpt:

379. Gunder Bjørnsen Kopseng, son of Bjørn Knutsen Enderud and Ragnhild Ivarsdatter Kopseng, b. in Sigdal 1801. [note: Gunder's birth given in Sigdal/Eggedal bygdebøk as 1805] Known also as Enderud. To Muskego settlement, Wis.; 1850 to Washington Prairie settlement, [Winneshiek county] Ia.
Married
380. Kari Engebretsdatter Skaalia, dau of Engebret Jakobsen Kopseng and Sigrid Torsteinsdatter Aasand, 1801-1881, buried Highland Prairie Lutheran cemetery.

Children:
381. Bjørn Gundersen Kopseng 1827-1912, moved to Peterson, Minn. Married 1852, Helge Christophersdtr Kopseng 1829-1910; both buried at Highland Prairie. She emigr. from Sigdal 1849 (passenger #171 on the ship Drafna from Drammen, arriving in New York July 25, 1849)
382. Engebret Gundersen Kopseng 1829-1911. Married 1854 Kirsti Pedersdatter Blegen 1833-1911, dau of Peder Hansen Blegen and Anne Olsdtr Kjos. She emig. 1850 from Gran. (Eight children named.)

383. Sigrid Gundersdtr Kopseng b 1833. Moved to Kansas. Married Daniel Weaver.