Roger

v

oted Clay County Farmer of the Year in 1965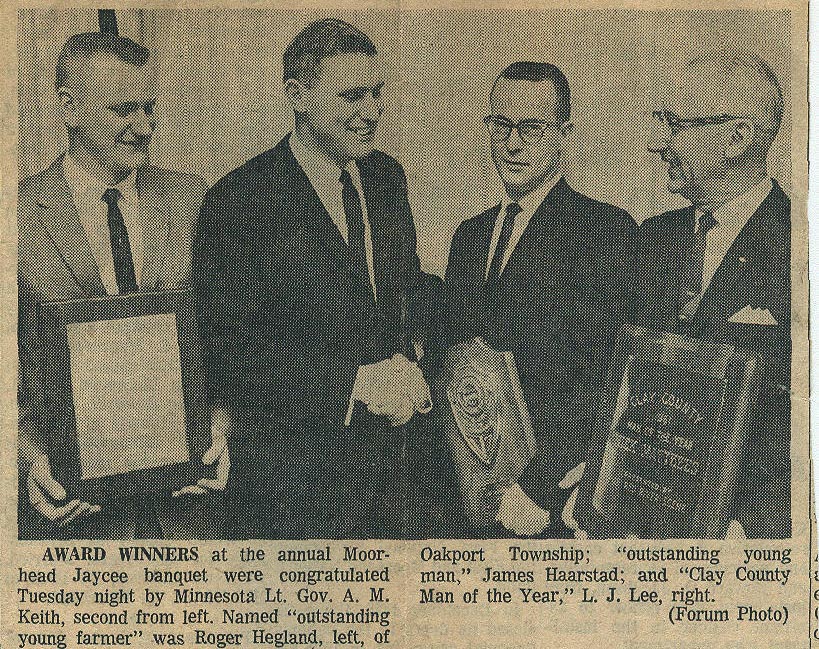 Larger photo
James Haarstad, Roger Hegland
Honored by Moorhead Jaycees
from the Fargo (ND) Forum

James Haarstad, a 30 year old office manager in Moorhead, and Roger Hegland, 30, an Oakport Township farmer, were awarded top honors Tuesday night at the annual Moorhead Jaycee Distinguished Service Award banquet at the F-M Hotel.
Haarstad was named Moorhead's "outstanding young man" and Hegland Clay County's
"outstanding young farmer."
Plaques were presented to both men and to L. J. Lee, Moorhead lumberman, who last week was named "Clay County Man of the Year." That award is sponsored by Bill Burill of KVOX and the Red River Scene.
...
Hegland lives three miles north of Dilworth with his wife, Shirley, and three children. He started farming in 1953 in partnership with his father, using his father's equipment. For the past 10 years he and his father in partnership have farmed 720 acres. Major cash crops are wheat, barley, soybeans, and sugar beets. He also raises considerable acreage of corn for silage for a 34-head dairy herd. In the past 4 years, he has erected two pole barns and a milk house.
Hegland milks 27 cows and has an average of 375 pounds of butterfat per cow.Along with the herd production, he keeps accurate records for the Dairy Herd Improvement Association.
He soil tests his land every other year and fertilizes according to the recommendation based on the soil tests. He uses legumes in his crop rotation to improve soil structure and fertility as well as to furnish necessary roughage for the dairy cattle.
He is a member of Trinity Lutheran Church, the Farmers Union and has served as vice president and president of the Farmers Union. He has been chairman and vice-chairman of the Agricultural Stabilization Committee and a director of the Oakport Community Association.
...
Original News Clipping (pdf)