Lina's Obituary and Death Certificate

From the McIntosh Times:

Larger Image


Funeral services were held on Wednesday at 12:30 from the Reese Funeral Chapel and at one o'clock from Trinity church for Mrs. Lina K. Hegland, 66, who passed away in Moorhead on Saturday. The Rev. G. Gabrielsen officated at the services. Interment was made in the rinity cemetery and the pall bearers were Iver Quam, Martin Enevold, O J Ramse, William Johnson, William Keller and John Bostrom.
Mrs. Lina K Hegland was born on April 5, 1879 in Houston County Minnesota, of parents Aanon and Thone Berg.
On May 6, 1898 she was united in marriage to Thor M. Hegland at a ceremony performed in McIntosh by the Rev. R Reishus. For sixteen years the Heglands made their home at Fosston, Minnesota and then in the spring of 1914 they came to this community. Here they purchased land three miles north of town and spent the remaining part of their lives building up a most modern and successful farm home.
Since the death of her husband about five years ago, Mrs. Hegland spent a great deal of her time visiting her children in Fargo and Moorhead and looking after business interests both here and in Moorhead. Her home was, however, always here, and most of the time she spent with her sones, Alfred and Oscar, who live on the Hegland farms north of McIntosh.
On February 14, Dr. Henney was called to the Alfred Hegland home where Mother Hegland was staying. The doctor advised that Mrs. Hegland be taken to a hospital immediately, but the patient smiled and said there was no hurry. The following morning, Harto Reese took her in the ambulance to a hospital at Moorhead, where she passed to her eternal reward on Saturday afternoon, February 17.
Besides the two living sons here, Mrs. Hegland is survived by Anton, George, Lorentz and Leonard Hegland; two daughters, Mrs. Theo. Bekkerus of Moorhead and Mrs. Grnt Nodskog of Thompson, Iowa; one brother, Ole Berg of Mayville ND; one sister, Mrs. James Baily of Henning ND, and 22 grandchildren and two great grandchildren all live to bless her memory.
Mrs. Hegland was a faithful member of the Lutheran church and her children all follow in her steps taking active interest in the church of Jesus Christ in their respective communities.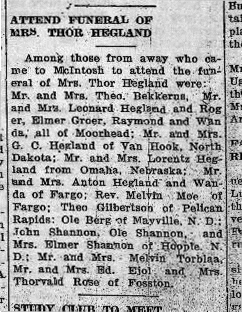 Attend Funeral of Mrs. Thor Hegland

Among those from away who came to McIntosh to attend the funeral of Mrs. Thor Hegland were:
Mr. and Mrs. Theo. Bekkerus, Mr. and Mrs. Leonard Hegland and Roger, Elmer Grover, Raymond and Wanda, all of Moorhead; Mr. and Mrs. G C Hegland of Van Hook, ND; Mr. and Mrs. Lorentz Hegland from Omaha NB; Mr. and Mrs. Anton Hegland and Wanda of Fargo; Re.v Melvin Moe of Fargo; Theo Gilbertson of Pelican Rapids; Ole Berg of Mayville ND; John Shannon, Ole Shannon and Mrs. Elmer Shannon of Hoople ND; Mr. and Mrs. Melvin Torblaa, Mr. and Mrs. Ed. Ejol and Mrs. Thorvald Rose of Fosston.
Larger image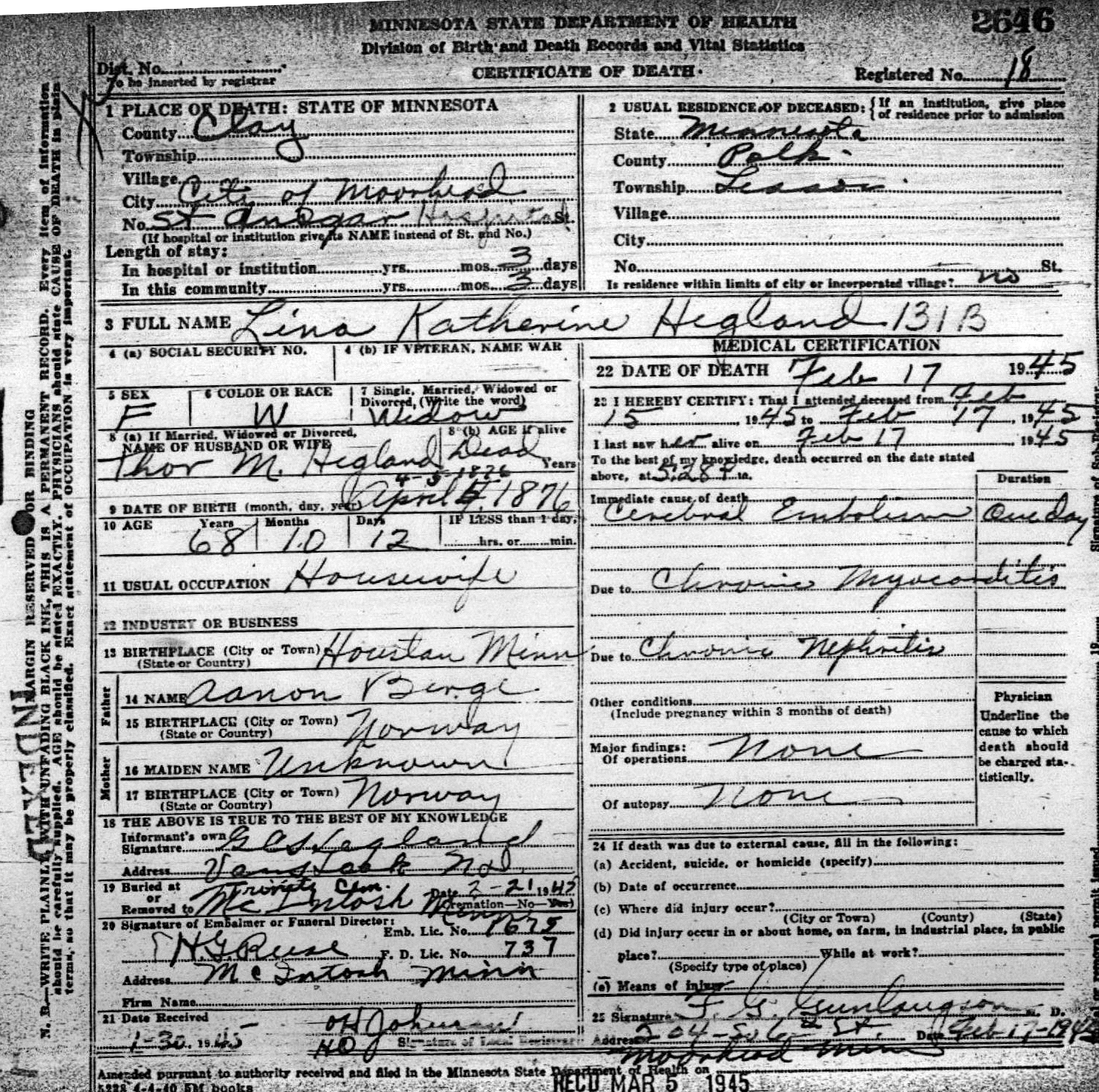 Lina'
s death was recorded in the Clay County death index

(

pdf). You'll find the earlier entries for the deaths of her husband Thor (1941) and son Carl (1943)

on the same page.




Larger Imag

e - Death Certificate