Poplar River Lutheran Church
The Poplar River Congregation was organized in 1885 by pastor Rev. L. J. Jerdee who organized several churches in the area. The first worship services were held in homes and Rev. Jerdee served from 1885 - 1889.
Thor and his family joined the Poplar River Congregation when they settled outside Fosston in 1898. The congregation was served by Johannes Sæter, who also came from Telemark. George's funeral was held at Poplar River on March 26, 1900. Sophie, Bernhard, Allette and Carl were all confirmed as members of this church.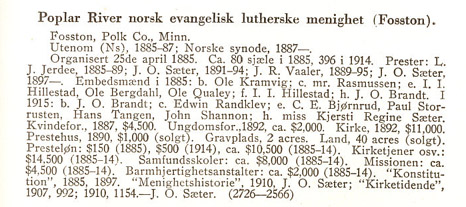 From O. M. Norlie's Norsk Lutherske Menigheter i Amerika 1843-1916
©1916 page 715
Organized April 25, 1885. There were 80 'souls' in 1885, that had grown to 396 members in 1914. Pastor J O Sæter served from1891-1894 and returned in 1897. He was still serving as pastor when this book was compiled in 1916.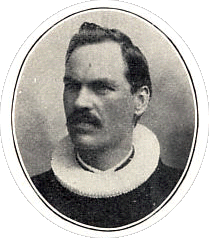 Johannes Olavsen Saeter was born in Seljord, Telemark in 1860. He attended Kviteseid Seminary and worked as a teacher until he came to America in 1882. He served congregations in and around both McIntosh and Fosston from 1891-1894, and was called to the churches of the Poplar River parish in 1897.
The story is told .....
Apparently Lina was concerned because Thor could not be convinced to attend church with her and the children on Sundays. She spoke in earnest with Pastor Sæter about it, and he agreed to come and talk to Thor, feeling he might have some success since they were both West Telemarkers, were close in age and had much in common. He appeared late on a Saturday afternoon and Lina sent him out to the barn where Thor was tending to the cows. A good period of time passed, and Lina thought perhaps the Pastor was making headway with her recalcitrant husband. When the two men finally appeared outside the barn, they were happily slapping each other's backs and laughing like two old friends. This filled Lina with great hope, but when they parted, Thor told the pastor to stop by any time and the pastor said he would do so and Thor would see him soon. Thor continued his practice of appearing at church only on Christmas, Easter, and to attend funerals, weddings, and other special events. As time went on, Pastor Sæter often stopped by to "minister" to Thor in the barn on Saturday evening. The two men maintained a close friendship even after Thor and his family moved to McIntosh. (It should probably be mentioned that Thor is reported to have kept a bottle of whiskey in the barn at all times.)
Poplar River Church merged with Landstad in 1941. The name of the church was changed from Landstad to Hope Lutheran, and is an active congregation today.