Trinity Lutheran Church, rural McIntosh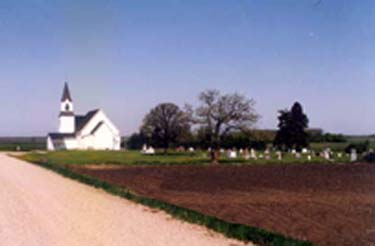 The Heglands joined Trinity church when they moved to McIntosh. All but their oldest children were confirmed there.
Thor and Lina and their son Alfred and his wife Edith are buried in the cemetery surrounding the church.
Trinity served the Norwegian Lutherans in the community, while just across the road the Swedish Lutherans built their church. That church was torn down, but Thor's sons George and Oscar, who married lovely Swedish girls, are buried in its cemetery. Thor's daughter Amanda and her husband Grant Nordskog are also buried there.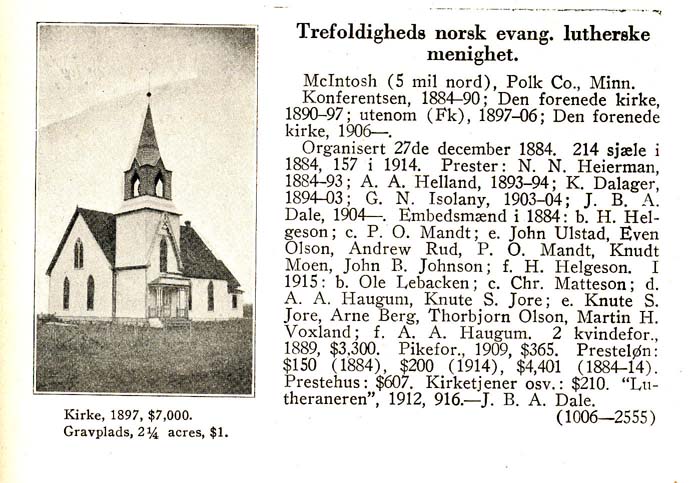 Larger image
F

rom

"Norsk Lutherske Prester i America" (Norwegian Lutheran Pastors in America)
by O M Norlie ©1915 page 711
Trinity Norwegian Evangelical Lutheran Congregation
Church was built in 1897 at a cost of $7,000
Surrounding cemetery of 2 ¼ acres purchased for $1.00
McIntosh (5 miles north) Polk County MN
Associated with the Conference of Norwegian-Danish Evangelical Lutheran Churches 1884-1890; United Norwegian Lutheran Church in America 1890-1897; Independent (Free Church) 1897-1906; United Norwegian Lutheran Church in America 1906-
Organized 27 December 1884. 214 souls in 1884, 157 in 1914. Pastors: N N Heierman, 1884-1893; A A Helland, 1893-1894; K Dalager, 1894-1903; G N Isolaney, 1903-1904; J B A Dale, 1904 –
Elected office holders in 1884: b. H. Helgeson; c:. P O Mandt; e: John Ulstad, Even Olson, Andrew Rud, P O Mandt, Knudt Moen, John B Johnson; F. H. Helgeson.
Elected office holders in 1915: b: Ole Lebacken; c: Chr Matteson; d: A A Haugum, Knute S Jore; e: Knute S. Jore, Arne Berg, Thorbjorn Olson, Martin H Voxland; f: A A Haugum
Two Ladies' Aids in 1889, $3,300. Girls' Society in 1909, $365. Pastor's stipend - 1884, $150; 1914, $200; 1884-1914, $4,401. Parsonage, $607. Church workers, total $210. "Lutheran" 1912, 916.
Submitted by J B A Dale
Trinity Cemetery
Thor and Lina are buried almost directly behind the "Trinity Lutheran C

emetery

" marker placed in memory of their daughter-in-law Edith.




A memorial for Thor and Gunil's son Bernhard was placed between Thor and Lina's headstones in 2007.

Bernhard was killed in the last weeks of World War I and is buried in France.




Alfred and Edith are buried elsewhere in Trinity Cemetery.