Thor's Death Certificate and Obituary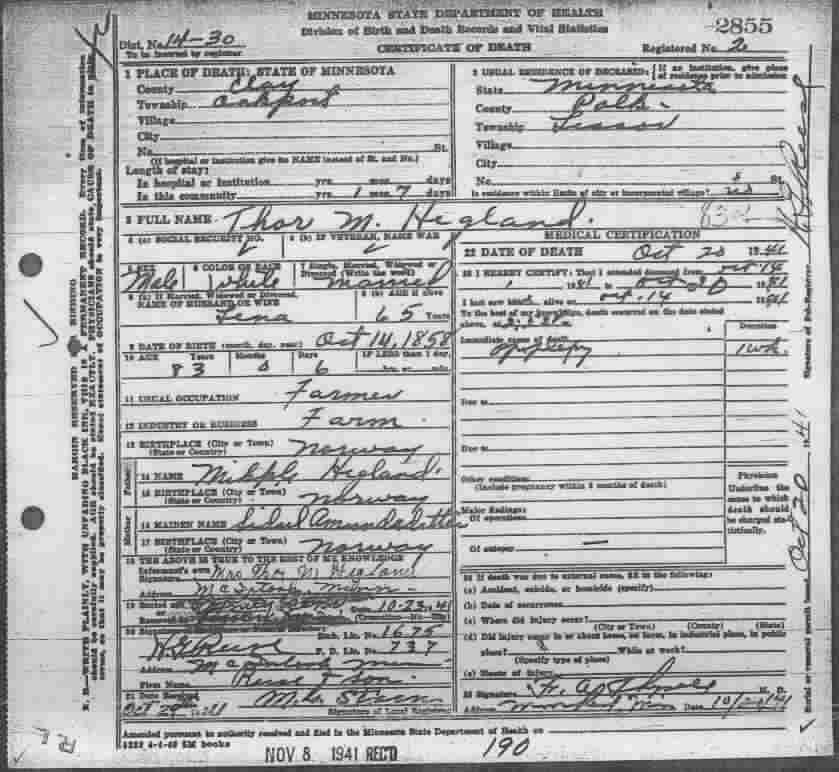 Thor and Lina arrived at his daughter Sophie and her husband Ted Bekkerus' farm in Oakport Township outside Moorhead to celebrate his 83rd birthday. Shortly after the party was over, Thor suffered a massive stroke.

He passed away a week later, on October 20, 1941. He was 83 years and 6 days old.



Larger image
Thor's death was recorded in the Clay County death index
(
pdf). You'll find the entries for the deaths of his son Carl (1943) and wife Lina (19
45) on the same page.

From the front page of the McIntosh Times
October 30, 1941
Thor Hegland Laid to Rest Thursday
Passed Away at Home of Daughter in Dilworth on Monday, October 20
Funeral services for Thor M. Hegland who passed away on Monday, October 20, at the home of his daughter in Dilworth, were held Thursday of last week. Services were held in the Reese Funeral chapel at one o'clock and from Trinity church in Lessor at two, with Rev. C. M. Westermoe officiating. Interment was made in the Trinity cemetery.
Thor M. Hegland was born October 14, 1858, at Skafsaa Telemarken, Norway of parents Mikkel and Sidsil Hegland. In the year 1862 his parents with their family emigrated to America and established their residence on a farm at Highland Prairie, Fillmore county, Minnesota. At this place he grew to young manhood and was confirmed in the Lutheran faith by Rev. Magelson of the Highland Prairie Lutheran church.
On February 12, 1886, he was united in marriage to Gunhild Endru and shortly thereafter moved to Overly, Rolette County, N. Dk. To this union was born six children, Sophie, Alet, Carl, Bernhard, Amanda and George. He was preceded in death by his wife Gunhild, his daughter Amanda, and sons George and Bernhard.
In the year 1898 he moved to Fosston and during that year was united in marriage to Lena Katherine Berge of Houston, Minnesota. Residence was maintained in Brandsvold township until 1914 at which time residence was established in Lessor township, where the remainder of his life was spent. To this union was born seven children: Anton, George, Lorentz, Alfred, Oscar, Leonard and Amanda.
He passed away October 20, 1941, at the age of 83 years and six days, and leaves to mourn his loss his wife, Lena K. Hegland, and the following children: Mrs. Sophie Bekkerus, Moorhead; Mrs. Alet Grover, Moorhead; Carl Hegland, Glyndon; Anton Hegland, Moorhead; George Hegland, Van Hook N. Dak.; Lorentz Hegland, Fargo, N. Dak.; Alfred Hegland, McIntosh; Oscar Hegland, McIntosh; Leonard Hegland, Moorhead; and Mrs. Amanda Nordskog, Leland, Iowa. One great grandson, 19 grandchildren and other relatives and friends also survive.