In the 1950's, Elmer needed a copy of his birth certificate to apply for Social Security. To his surprise he learned that his given name was actually "Almer"!
Elmer was quiet and a little shy, but his "blue eyes and smooth moves" on the dance floor made him a real favorite with the young ladies. Allette Hegland attended a dance in Moland Township with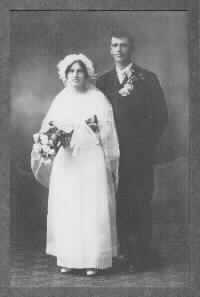 her sister, Sophie, and couldn't take her eyes off the tall man with the thick wavy hair. She was tongue-tied when Elmer was encouraged by a mutual friend to ask her to dance. The next morning, Alet told her sister that she would marry Elmer Grover. Sophie didn't believe her, but on December 28, 1914 Elmer and Alet were married. They had three children.
They began their married life living in "the summer house" on Elmer's Uncle Krist's farm. Elmer purchased a farm near Averill. They had been on the farm for a number of years when the price of potatoes fell through the floor. When it came time for his annual land payment, Elmer couldn't make enough money to meet it. If the world worked then as it does now, he might have been able to tie things up in court until the spring when he was sure the price would go up. Unfortunately, the bank demanded immediate payment. As he had expected, the next spring the price soared. Had he been able to wait, Elmer would have made enough to pay off the whole farm. Instead, he lost the farm and the crop, but walked away with his machinery and livestock. He moved his family to a rented farm in Oakport Township.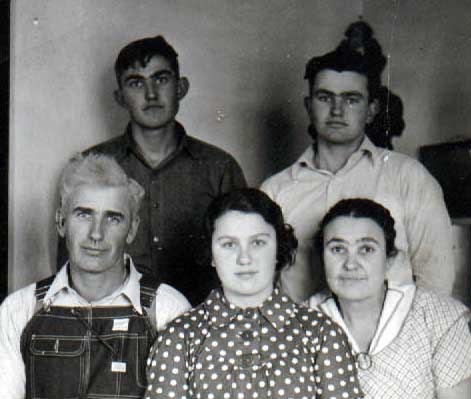 Elmer, Wanda, Alet
c. 1935
Elmer intended to buy another farm and start again, but his plans changed when Alet started to feel weak and ill in the late 1930's. Elmer & Alet sought medical help from both the local doctors and the Mayo Clinic, but Alet succumbed to cancer on December 12, 1943. She was only 50 years old.
For a time, Elmer and his son Ray farmed together. When Jerry came home from WW II in 1946, Ray bought his own place. In 1955 Elmer started spending his winters in the Corpus Christi TX area. He and his snowbird friends frequented the "Golden Age Club." Once again, the blue-eyed man with the smooth moves on the dance floor was a favorite with the ladies. His friends reported with a smile that although he had been chased by many, the woman he allowed to catch him was Viola Sugarek. The two of them fell in love and were married in 1956.
Although his sons had strongly opposed the marriage, even they had to grudgingly admit that the next seven years may well have been the happiest of Elmer's life. He and Viola spent their winters in Texas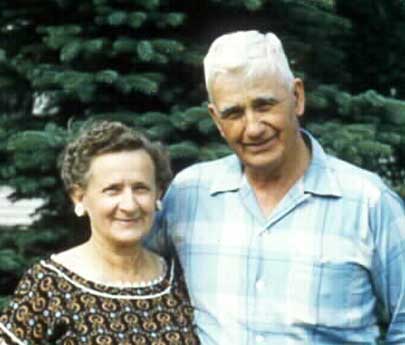 on her farm outside Beeville TX and their summers in Minnesota. Elmer kept his wedding picture with Alet on his nightstand and Viola would say that she owed Elmer's first wife everything for "training Elmer right and making him into such a wonderful husband."
Elmer was 73 when he died of a heart attack on December 3, 1962. Viola continued to come to Minnesota each summer until traveling became difficult for her. She was, in so many ways, the best gift Elmer ever gave his family. She passed away June 24, 1990 in Beevile Texas at 90 years of age.
Elmer served on local school boards and was president of Concordia Church for a time. Alet was a member of a number of community women's groups and was an officer of the Concordia Ladies Aide. Elmer and Alet are buried in Concordia Lutheran Church Cemetery, rural Glyndon. Viola is buried in Beeville, Texas.
"Heglands on the Web" website