Laura Amanda Hegland 1891-1898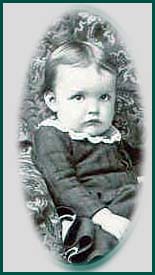 Laura Amanda Hegland was born on October 5, 1891 on her parents' homestead outside Overly ND. She was Thor and Gunil's third child, and like her two older siblings, was known by her middle name.
The bright and beautiful little charmer was baptized at Willow Creek Church on November 29, 1891. Her sponsors were Mr and Mrs. G. Gullickson, and Ole and Inga Aamodt.
Sophie spoke warmly of her little sister and how she enjoyed it when Amanda was old enough to tag-along during Sophie and Bernhard's explorations of the land around their farm.
Amanda was only 6 years old when her mother died, and again according to Sophie, the loss of her mother had a profound effect on the little girl's personality. She contracted a cold that became more and more severe during the winter of 1897-1898. Laura died on April 11, 1898. She was buried next to her mother in Willow Creek Church Cemetery the next day.