Willow Creek Lutheran Church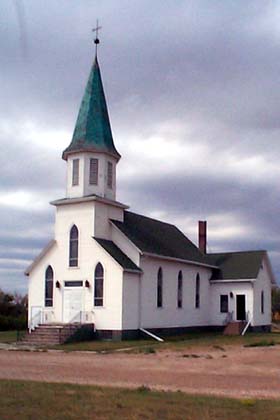 Willow Creek Lutheran Church in Overly ND was founded in 1885. Thor likely did not become a member until after his marriage to Gunil Bjornson in 1887. The family is mentioned in this excerpt from the 50th anniversary history:
"During the next few years several families moved into the settlement and united with the congregation. Among them were the G. Syvertson, the Lars Johnson, Hegland, Haugen, Hagen, Skogstad and Botten families...." View original image
Sophie, Bernhard, Amanda, George, Allette and Carl were baptized into the Willow River Congregation.

Funerals for Gunil and her daughter Amanda were held at Willow Creek, and both are buried in Willow Creek Lutheran Cemetery.

Gunil's son George died after the family moved to Polk County MN, but his body was returned to Overly and he was interred with his mother and sister.

There are no grave markers for Gunil, Amanda, and George. A project for the future will be to install stones to mark their graves in the cemetery. Gunil died far from her family in southern Minnesota, and her husband and children moved far away, never to return. She, and her two children, should be remembered.


From the 125th anniversary of Willow Creek celebrated in 2010.