Thor's Baptism at Kviteseid Church
Thor was born in 1858 on the "Hageland" farm in Skafse, Telemark County, Norway. He was baptized in Kviteseid Church.
KVITESEID KIRKE
The church where Thor was baptized is one of the oldest in Telemark. It was built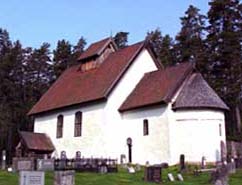 around 1100 and dedicated to St. Olaf. The walls are about 1 1/2 m. thick. In spite of this, the southern part of the church collapsed in 1595 and had to be rebuilt.
In 1723 King Fredrik IV sold all the Norwegian churches. Kviteseid was purchased by Karen, widow of Christen Thomesen, but shortly thereafter it was returned to the common people.
When the first restoration project began in 1929 a number of old graves were found under the church floor. The surrounding churchyard is as old as the church. Traditionally, grave lots are "leased." When the lease is no longer paid, the gravesite is reused. For the oldest graves to have been maintained, someone would have had to pay continuously since the burial. As a result of this practice, few gravestones dating before 1800 can be found today. However, between 60,000 and 70,000 people have actually been buried there!
The church was completely restored in 1969. Beneath the white plaster, the old decorations were still there. Old drawings in the chancel and apse were uncovered. Eleven pictures from 1750 of the first Oldenburger Kings now hang in the nave.
The portal is very rare. A carved wooden arch can be found above the door. In the door there is a ring. it is said that when the ring breaks the world will pass away!
The ceiling decorations were made by Thomas Blixius in 1714. The altar piece dates to 1732. At the entrance to the chancel there was a crucifix from about 1200 that is now at the Oldsaksamlinga in Olso. On the altar there are two candlesticks which were given to the church in 1663. The Bible on the altar is from 1589. The brass chandelier in the nave was a gift to the church in 1717. The collection bowl dates from the Middle Ages.
A new church was built for regular use by the congregation in 1915, but the old church remains as a testament to the traditions from which Thor and his ancestors grew
.
Thor's Baptismal Record
October 30, 1858
From the Digitalarkivet
Scanned Church Books
Telemark - Kviteseid Churchbook 1836-1858
Page 258 #108

The handwriting makes the birthdate difficult to read in this entry. Thor reported and celebrated his birthday on October 14th, but in this entry it looks more like October 13th. The date of baptism was October 30th, 1858. His parents, Mikkel Tarjesen and Sissel Amundsdtr Hageland, were married at the time of his birth.

The names of Thor's sponsors are equally difficult to decipher, but appear to be: Bjerlund Lens--?, Asge Hageland, Bergit Aanevigen, Aanold Hageland and Ole Wraa.