North Dakota Homestead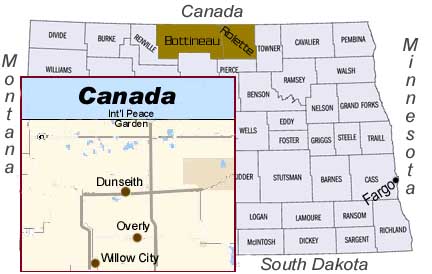 We don't know how soon after he received his citizenship in 1882 Thor headed west to homestead. In the 1885 North Dakota Territorial Census he has relocated to Rolette County and two other young Norwegian men are listed as boarders. Early histories of Rolette and neighboring Bottineau county don't mention Thor, but do list some of his children's baptismal sponsors. The histories provide a window on what it was like to be a settler in the northern reaches of North Dakota in the mid-1880's.
This replica of a North Dakota soddie is probably much like the one that Thor's daughter Sophie recalled from her childhood in the Turtle Mountains. Shortly after the homestead was filed in 1893, a "real" home was built on the land.



This satellite photo from Google Earth shows the location of Overly ND and the Hegland Homestead. We believe the home (which is no longer standing) was at the back of the property near the creek.