Lina Berge Hegland 1876-1943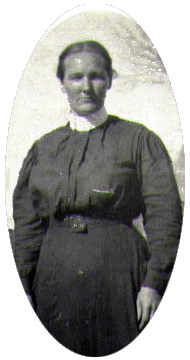 Lina Katherine Olsen was born on April 5, 1876 in Oakridge, Houston County MN. She was baptized at Rushford Lutheran Church and confirmed into that congregation on October 26, 1890. Although the family eventually used the surname Berge, throughout her youth her parents used the patronymic Olson. So yes, it can be said that we have a Lina Olson in the family!

Lina was the daughter of Aanund and Thone Olsen, who had married just a few days before leaving Norway for America in 1872. She and Thor were cousins; Tarje Mandt was both Lina's maternal great-grandfather and Thor's paternal grandfather.

Lina's father died in 1896, and at about that time Lina was sent to North Dakota to help Gunil after Carl's birth. Gunil did not recover, and responsibility for the household and caring for the 6 Hegland children fell on her 19 year old shoulders.

Lina and Thor were married on May 26, 1898.

Lina died in Moorhead MN on February 17, 1945 at age 68. She was buried next to her husband in the Trinity Church cemetery, rural McIntosh MN.