Pioneer Programs
Wisconsin, Iowa, Minnesota and North Dakota all have pioneer association/certificate programs for which family members qualify. Applicants do not have to live in the states to qualify. All programs require applicants to provide documentation that proves residence and line of descent. Proof documents found on this site are listed and ready to print on 8 1/2" by 11" paper on the individual program pages shown on the menu on the right.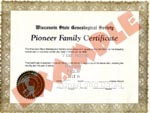 Wisconsin: The Wisconsin State Genealogical Society
Pioneer Certificate suitable for framing
Application fee: $12.00

Gunder Bjornson Kopseng




Gunder also is an Iowa Pioneer. Iowa Pioneer Certificates are available for $10 with an application to the Iowa Genealogical Society. A proof of residence document is not on this website. Documents proving descent can be found on the Wisconsin Pioneer page.




Minnesota: Minnesota Territorial Pioneers
Organization Membership
Application fee: $15
Yearly dues: $24
Norwegian Statehood Pioneer Project
Special Sesquicentennial Program in 2008
Wooden plaque shaped like MN with Pioneer name on it
Application fee: $25

Amund Thorsen Barskor
(Thor's paternal grandfather)
Bjorn Gunderson aka Ben Benson
(Gunil's father)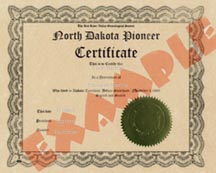 North Dakota: Red River Valley Genealogical Society
Pioneer Certificate suitable for framing
Application fee: $10.00

Thor Mikkel Hegland