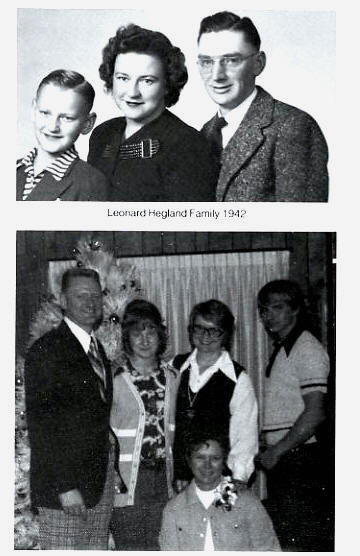 Leonard and Myrtle Hegland with their young son moved to Oakport township from McIntosh Minnesota in the spring of 1935.
Leonard was the youngest son of ten children born to Thor and Lena Hegland who settled in the McIntosh, Minnesota area. Thor and Lena were raised in southern Minnesota, Fillmore County, after coming from Norway as children with their parents.
Several of Leonard's sisters and brothers were living in this area. Mrs. Elmer Grover and Mrs. Theo Bekkerus lived on farms adjoining in Section 23, five miles NE of Moorhead. Anton Hegland is with Hegland Sign Co. and Lorentz Hegland lived in Fargo several years. Carl Hegland farmed north of Glyndon until his death in 1943.
Myrtle Hamre was the youngest daughter of Samuel and Bergit Hamre who both emigrated from Norway in the late 1800's. After Sam Hamre worked for the Jim Hill farms at Crookston and Northcote, Minn. Samuel and Bergit settled on a farm north of McIntosh, Minnesota. Of the four children a brother and sister reside on farms near Erskine, Minnesota and two sisters live in California.
Thor and Lena Hegland purchased 1/4 section in Section 23, Oakport township in 1931. Leonard and Myrtle rented the farm from 1935 until 1946 when they purchased it.
Leonard and his son Roger formed a partnership in 1953 and farmed together until Leonard's death in 1969.
Roger married Shirley Melby in 1953. Shirley also lived in Oakport Township, Section 15. Shirley is the daughter of Edwin and Clarice Melby. They have three children.
Roger and Shirley purchased an adjoining 480 acres from Mrs. Isabel Ball in 1968 but reside on the home farm.
-- Details about living individuals in the original have been removed--