Buskerud Fylke, Norway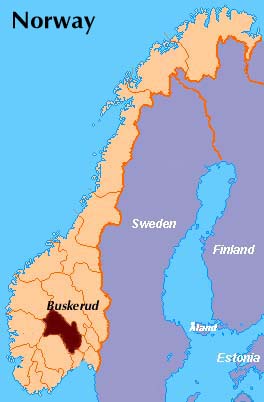 Buskerud is almost completely landlocked, with just a tiny strip of coast and the port of Drammen in its southeastern corner.
In early times, Buskerud was well known for its bear population but by the end of the 1970's the native bears had disappeared. The silver shield symbolizes the enormous mineral riches of the Kongsberg silver mines.

The color of the bear is a beautiful cobalt blue. During the 1830's, the cobalt mines in Modum produced great quantities of this important export product. Cobalt was a material widely used in the glass and porcelain industry.

The name of the county comes from the old Buskerud farm (Bishops clearing) in Modum. The area of the original farm is today the site of a county agricultural school.
Gunil's grandparents were living on the Enderud farm (#215) in Krodsherad kommune (township) when they left for America.